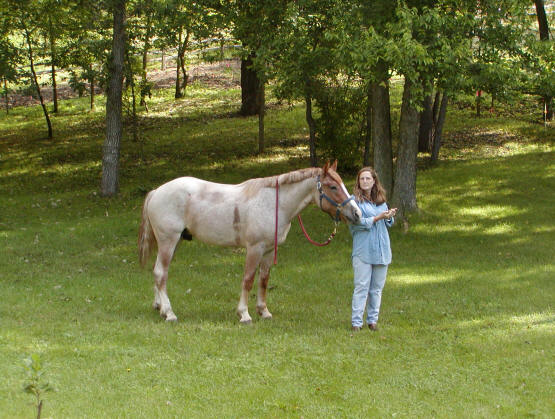 Hello, and welcome to Cyclin-inn in beautiful Whalan, Minnesota. I am Tammy Hughes, the proprietor of the Cyclin-inn. I am originally from Duluth, Minnesota and have been migrating south ever since I became old enough to explore Minnesota. After spending 15 years in the Twin Cities, and escaping every weekend to go biking, kayaking, or horseback riding, I decided that I should make my move a bit further south. With the Root River / Root River State Bicycle Trail being the draw, I began searching for my dream property. In discovering Lanesboro with its majestic bluffs and scenic views, I fell in love. In 2001, I found my little haven in Whalan, just 4 miles east of Lanesboro.
During the first year, I was in love again with Litefoot. He is a half Belgium and half Appaloosa draft / riding horse. Living on the outskirts of the small community of Whalan, he quickly moved in. Now I have 4 smaller horses, actually miniatures. Lucy, King Authur, Harvey and George. How delightful my overgrown yard pets are.
So in the mean while, I created the Cyclin-inn. Allowing you to enjoy the peacefulness of the small community and the great outdoor scenery right out the door on the Root River, On the Root River State Bicycle Trail. Please enjoy my home and treat it as your own. You will find all the comforts of home and more. The Cyclin-inn is located on the Root River State Bicycle Trail, on the Root River and within a block of two city parks, and Gator Greens Mini Golf. Whalan has the world famous Pie shop where you can eat, and an outfitter within walking distance where you can rent a bike, kayak, tube, or even a canoe. Within a few blocks, you can connect with Bluff Country's Jeep Tours, and even take a horse drawn sleigh or wagon ride.
Bring your family and friends to Whalan for a fun, relaxing getaway. On your way here, explore our National Scenic Byway, Highway 16. The town of Whalan offers peaceful tranquility and opportunity to explore the Bluffs of Minnesota.
We even offer on site bike storage.